For the first time ever, Native Earth partnered up with Factory to co-produce the work of an Indigenous playwright. For this landmark partnership, the companies chose to bring to audiences the Toronto debut of The Unplugging by Yvette Nolan.
For his first production at the helm of Native Earth, Métis (Cree) Artistic Director Ryan Cunningham was excited to produce a play by Algonquin playwright Yvette Nolan. "I was a really excited to support the work of a personal mentor of mine, Yvette Nolan." Nolan served as Artistic Director of Native Earth for eight years (2003-2011). "During that time Yvette influenced me as an artist and an artistic leader.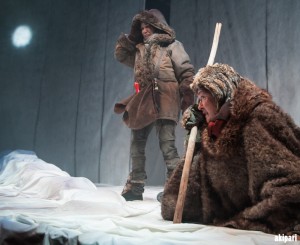 "She gave me my first job at Native Earth in a workshop, and provided me with opportunities to keep working as an Indigenous actor."  It was Nolan's encouragement that motivated Cunningham to start his own Indigenous theatre company in Edmonton, Alberta Aboriginal Performing Arts, which paved the way to his current position as the artistic leader of Native Earth.
"Being in a position to return that support by producing her work is an honour."
"For us to survive as a species we need that knowledge in our contemporary life and it must inform how we move forward as a society. "
It's not just supporting the playwright that made this production so important; it was also the story it tells. "What I love about The Unplugging is that it talks to the importance of Indigenous knowledge. It's so rooted in the land. It's lessons that have been learned  from the land," says Cunningham. "For us to survive as a species we need that knowledge in our contemporary life and it must inform how we move forward as a society. "
Native Earth wasn't the only company interested in producing The Unplugging. Factory Artistic Director Nina Lee Aquino was in conversation with Nolan to direct the show. "A partnership between our companies just made sense," says Cunningham. "I trust in the connection that Yvette and Nina have as a creative team which stems back to our working together at Native Earth – Yvette as Artistic Director, Nina as Marketing Manager, and I as an emerging actor."
In approaching the casting of this production there were many factors to consider. To best support the work of this Indigenous artist, Native Earth and Factory aimed to put together a cohesive and collaborative creative team.
"We put together what we believe is a strong, talented cast who have great chemistry."
"Every artist has their ideal team and we wanted to honour the working process the best we could. We didn't have the budget to go outside of Toronto, and Indigenous artists we would have loved to have worked with were unavailable. So we put together what we believe is a strong, talented cast who have great chemistry."
Cunningham supported Aquino's desire to work with her dream design team on this production. "Camellia Koo (Set Design) and Michelle Ramsay (Lighting Designer) have brought to life numerous Native Earth productions over the years. They are a significant part of Native Earth's history, and we're honoured that  they, Joanna Yu and Romeo Candido all came together to create a world in which to tell Yvette's story.
"Everyone involved in this production is working to support the voice of an Indigenous artist, sharing an Indigenous story about valuing those stories and the knowledge passed on through generations," says Cunningham. "And that's what Native Earth is about."
The Unplugging opens Thursday March 19 and runs through to Sunday April 5.
---
---
Getting Unplugged with Ryan
What advice would you give to someone
who wants to do what you do?
Take very opportunity your offered and get as much experience as you can doing the things you love… whether that's practicing in the arts or in your other interests. What continues to amaze me in my role is the importance of the skills that I have learned outside of working in the arts and how they add and inform my artistic practice.
What's the best advice you've ever received?
When things get stressed or tense, remember; No one's going to die or lose a limb when someone makes a mistake in our line of work.
We can always do better the next chance we get.
Who or what inspires you?
Narcisse Blood, Tantoo Cardinal, Michael Green,
Kevin Loring and Marie Clements… and the land in Alberta.
What was your first job in theatre?
1995 at Citadel Theatre, Oh What a Lovely War by Joan Littlewood,
the last year Robin Phillips was Artistic Director.
What is your profession's greatest challenge today?
Stephen Harper;
dwindling ticket sales;
how to be relevant, honest and necessary.
What ability would you like to steal from another artist?
Cliff Cardinal's brain and Brian Solomon's legs.
What are you reading right now?
7 Generations: A Plains Cree Saga by David Alexander Robertson
Where is your favorite place to be?
With friends, in Nature, away from the city.
What is one of your pet peeves?
Noisy eaters and sippers.
Who is one of your heroes?
Tomson Highway
The one word your best friend would use to describe you?
Bent