Weesageechak Begins To Dance – 26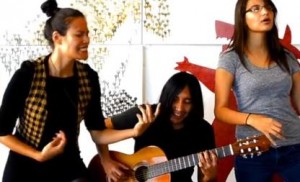 Our annual new works festival placed a special emphasis on local Indigenous artists and their works in development.
Click here for details.
Rutas Panamericanas Festival
We were honoured to partner with Aluna Theatre to produce the second Rutas Panamericanas|Panamerican Routes Festival.
Click here for details.
In Spirit (formerly Quilchena)
NNNN – Now Magazine
"In Spirit, though perfectly straightforward, packs a cumulative emotional wallop, asking viewers simply to care about the loss of a precious life."
– Jon Kaplan
Directed by Tara Beagan, this production saw a National Tour, which included Vancouver's Talking Stick Festival, Toronto's Rutas Panamericanas Festival, and a one-week run in the Aki Studio.
Click here for details on the show and to read the reviews.

_____________________________________________________
2013/14 Season in Depth: Of Community… (read more)