Vancouver-based Cree/Métis choreographer and dance artist Jeanette Kotowich shares her character-derived performance Eloise for the closing night of Weesageechak 31. Bringing insight to the practice of honouring traditional territory, Eloise honours the inner terrain of the body, our ties to land, and the experiences that we carry from the land we have come and the land on which we currently stand.
"It was inspired by my personal reflection of territorial acknowledgement – a self-reflection of my identity as a mixed blood person and my relationship with the two distinct landscapes I call home (Treaty 4 territory of Saskatchewan, and the Coast of British Columbia). Eloise references the many different languages of dance and the cultural practices which I have chosen to steward through my artistic career."
The performance experience is a provocation, asking the question "How do we give thanks?" Jeanette invites the audiences to think about our personal relationship with the land and the act of territorial acknowledgement as a humble and daily practice.
The last time Jeanette attended the festival was in 2016 with her solo work Steppin', a contemporary expression of Métis jigging, and she will return to Native Earth in February 2019 with Raven Spirit Dance's Gathering Light.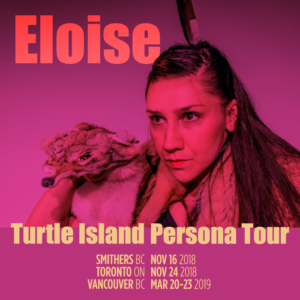 Catch Jeanette Kotowich's Eloise in her Turtle Island Persona Tour tonight!
---
More about Jeanette Kotowich
What piece are you looking forward to seeing at W31?
As much as I can! This is always my festie approach.
Who is your Indigenous role model? How do they inspire you?
Oh gosh, there are so many people who have supported my growth and development over the years, who have come into my life to mentor me in unique and invaluable ways.
To name the top few…Yvonne Chartrand, Margaret Grenier, Charles Koroneho, Starr Muranko, Michelle Olson, and Carlos Rivera. Each is steadfast in their strength, generosity, grace, and determination.
Where do you find inspiration for your creative work?
I find inspiration from looking deep inside my questions and curiosities about identity and reflecting on contemporary modes of expression that honour my ancestors.
What's the best piece of advice you've been given?
"Those who are ready to receive you, will."
Do you have any advice for young Indigenous creators just coming onto the scene?
Listen to your inner voice. Create from that place. Be true to that voice, and the rest will follow.
What does art mean to you?
My artistic practice is everything to me. It is not just a career choice or a way to pay rent. It is a life vocation.
What's coming up next for you?
I am currently developing a full-length, innovative, solo performance called Valley, with the generous support of Canada Council. Collaboratively directed by Charles Koroneho and I, alongside artistic collaborators Jonathan Kim, Wayne Lavellee, and Brady Marks, Valley is an interdisciplinary expression of the journey to one's self. It is deeply tied to kisiskâciwan, the "fast flowing" landscape of Saskatchewan. A creative returning to land, body and identity, the work unfolds out of the robust and undulating land of my grandmothers' mothers and great-great grandfathers.
Development is taking place throughout 2018/19: www.movementhealing.ca.
All photos by Daniel Paquet 
---