This Thursday, Native Earth's annual Indigenous Dance Double Bill, Niimi'iwe, returns to Aki Studio with two incredible contemporary Indigenous dance works. The first is light breaking broken, a collaboration by Cree/Gitxsan choreographer Margaret Grenier and Vancouver's Karen Jamieson.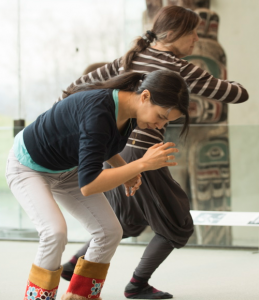 For Margaret Grenier, dance is a way of life. Grenier grew up in a Cree and Gitxsan family, who worked to revitalize Indigenous dance after the Potlatch ban was lifted in the 1950s. Her family created the West Coast's Dancers of Damelahamid, and after growing up immersed in traditional training, Grenier is now the Executive and Artistic Director.
Karen Jamieson, founder of Karen Jamieson Dance, realized dance was what she was meant to do after taking a class as an elective during her post-graduate teaching degree at Simon Fraser University. In the time since, Jamieson has become an award-winning choreographer who has toured around the world. She collaborated with Grenier's parents on Gawa Gyani in 1991, and Jamieson and Grenier have stayed connected ever since. The two are bringing their new collaboration about language, culture, and identity to Toronto, as a part of Native Earth's Niimi'iwe.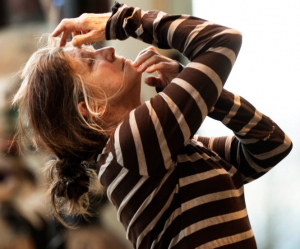 "Cultural identity and fear of other cultures are serious issues on the planet today. light breaking broken participates in a necessary and ongoing conversation that seeks to move forward while acknowledging our past," says Jamieson. "While Gawa Gyani was groundbreaking in many ways, it was created with two dance traditions existing side by side. light breaking broken builds upon this relationship and extends into a new territory with the beginnings of a hybrid language drawing from both dance traditions."
The piece began in 2012 when Grenier was invited into the research process for a solo Jamieson was working on.  "Our 'danced conversation' focused on the juxtaposition of our radically different dance traditions, different perspectives, and a dialogue on post-colonial dance," describes Jamieson. "Our explorations resulted in a work with very strong potential so we committed to developing it further."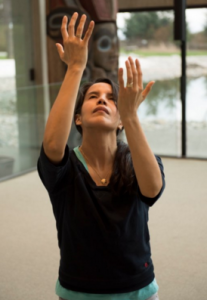 That is exactly what they did. Over the past few years, Grenier and Jamieson workshopped the piece, having long conversations, identifying key issues, questions, and contradictions, and then improvising movement inspired by their differing dance traditions. "We began to look at the concept of broken as a paradox with both a positive, as in breaking through, and a negative, as in broken spirit, says Grenier. "This led to the foundation of the current work."
"For myself it has been a significant learning experience in understanding creative processes outside of those informed by Indigenous epistemologies and pedagogies," says Grenier. "I feel as if the whole process has been both humbling and also empowering as it has further clarified my own practice and deepened my internal foundation in the coastal form."
Like most great work, there is also a team of collaborators behind light breaking broken, including Margaret Harris (Elder Advisor), Josh Hite (Video Artist), John Korsrud (Composer), DD Kugler (Dramaturg), Betsy Lomax (Elder Language Carrier), and James Proudfoot (Lighting Designer). Jamieson describes the collaboration with Korsrud , Hite, Proudfoot and Kugler as open, generous and creative, and highlights Grenier's mother Margaret Harris as a "mentor, teacher and respected Elder whose wisdom has guided me for many years." Lomax's understanding of language and culture was also vital to the creation process. "We have so few fluent speakers, says Grenier. "It is always vital to bring this knowledge into the process."
light breaking broken had its world premiere last week at Vancouver's International Dance Festival, and this week it will have its Toronto premiere with Native Earth, a natural fit for this work. "Indigenous artists need a safe space to open our hearts and share our practices," says Grenier. "Native Earth carries the medicine of all the Indigenous artists who have done this."
light breaking broken runs March 30 – April 1 at 7:00 pm in Aki Studio, part of Niimi'iwe: Indigenous Dance Double Bill.
---
Quick Facts About Grenier + Jamieson
What advice would you give to someone
who wants to do what you do?
Margaret: Have faith that you are always
guided by those who have come before you.
Karen: You have to love it.
What is your profession's greatest challenge today?
Karen: Relevance.
Where is your favorite place to be?
Margaret: Home, on the Skeena River,
which is the Ksan and Damelahamid.
Karen: Up the coast of British Columbia
to a remote bay with no roads or electricity.
Who is one of your heroes?
Margaret: My grandmother,
who was strong and dedicated and kind.
Feature photo by Chris Randle