You've probably heard by now that Huff is on tour (nine cities!), and now we're excited to offer a closer look at the nitty-gritty of this adventure.  In looking back at the first two legs in Alberta, Artistic Director Ryan Cunningham shares some insight of taking this production on tour.
---
We couldn't have had a better place to launch this tour than the High Performance Rodeo. Produced by One Yellow Rabbit in Calgary this is Canada's biggest, boldest and longest running International Arts Festival, and one of my favorite festivals in the country. Not just for the incredible programming but for how well they treat their artists. Everyone is so welcoming and generous. And it's a month long!
I've always been jealous of Calgary audiences who get to see so many amazing productions from around the globe every year. And this year, Huff is among them. It is such an honor to be a part of their 30th anniversary, and to pay our respects to such a wonderful Spirit who co-created so much incredible art with the Rabbits and fostered so much talent in Canada: our dear friend Michael Green; Elk Shadow. Cheers to you my friend and another fantastic Rodeo. Thank you for nurturing, guiding and teaching so many of us.
One of the most exciting parts about going on tour is the 'unknown' factor. There will always be something that comes up that has never been an issue before. It's never a question of if, it's always when. Which is inevitable when you are putting up a play in different venues. You actually have to re-design the show for each venue and we are doing this show in nine venues over nine weeks.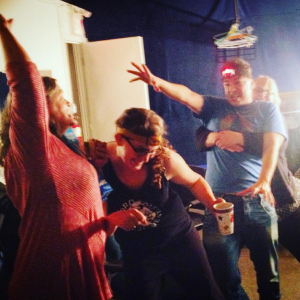 Thank you to our incredible and supportive design team; the fantastic Michelle Ramsay who has been re-designing our lights for each venue; the awesome set design from Jackie Chau that perfectly re-creates the world of the play, and yet is able to accommodate the various venues we find ourselves in; our incredible sound designer, Alex Williams, who added more sound cues before we left and lent us an amazing meter, that auto adjusts sound levels and volume. This small thing may not sound amazing but this one little detail has saved us much time in each load-in. And when you only have twelve hours to put up a show, that means a lot. All of your work and attention to detail continues to support us along the way. Thank you!
Huge thanks to the work of our technical director, June Epstein. She put in long hours in our first two cities as we refined the process and figured out the needs of the production as a touring production. Thank you, Jennifer Stobart our incredible stage manager; your touring experience has all ready been invaluable on this tour. And big thanks to our Native Earth team back in Toronto for all the work, planning and continued support for the show; Isaac, Kat, Yolanda and Pip. THANK YOU!
And finally… a BIG shout out to Cliff. It is such a heart-wrenching joy to witness the different reactions from audiences to your performance. I continue to be impressed by your professionalism, your work ethic and your rigor as an actor. I am so proud of this production and honored that Native Earth can continue to bring this awesome piece of theatre to audiences across Canada.
Next stop: We'll be in Vancouver for the PuSh Festival, and then we make a short stop at home (North York) before continuing east to Quebec. Can't wait!
Ryan Cunningham, Artistic Director
---
Feature image of Ryan Cunningham & Cliff Cardinal during a talk-back at High Performance Rodeo in Calgary, Alberta.