We've just passed the midway point on our nine-city Huff tour, and we continue to offer a closer look at the nitty-gritty of this adventure. Stage Manager Jennifer Stobart gives us the inside scoop on the ups and downs of such an ambitious tour.
---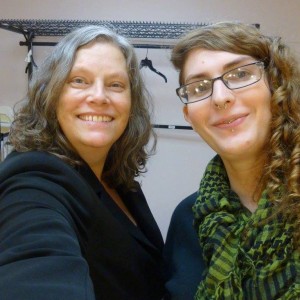 Here we are on day one, week seven, of our nine-week tour of Huff, my day off… I have been asked to contribute to the tour blog. I was told I could write about insider information about touring, what it feels like to tour, what are the challenges of touring. What have you learned on the tour?
Well, when it comes right down to it, the day-to-day of touring, the challenges, frustrations and joys, all seem to fade away. Keeping an even-keel, and looking forward, not backward, helps a tour run smoothly. If you are doing it right – "What do you mean we can't get on the train with our set? Okay then, um, on to plan B"…"I am sorry? Did you say one of our set bags did not get on this flight?"…"The interview is NOW, at the theatre, I forgot, okay… let me make some calls and see if I can fix my error" – all of those small moments fade away.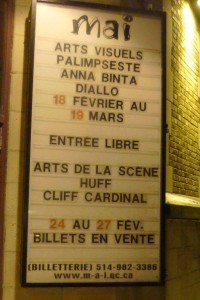 You might be surprised to hear this, but, the one thing on the road which can make or break a stay in a city… the food. On every tour I have ever done, maintaining a healthy diet has been the most challenging issue. All restaurants assume you are there to eat food as a treat. Generally, the reasonably priced restaurants offer french fries with practically every meal… a salad often is iceberg lettuce and a couple slices of tomato…"fresh" vegetables of the day are usually over cooked… and, although once a week is okay, a breakfast can not be bacon and eggs every morning.
Hotel living necessitates going out for every meal, so on the days when you wish to hole up and sleep and stay in, ordering take out is the only answer, but pizza can not be a steady diet, and no one delivers breakfast.
In each city we have visited I have eaten in one extravagant restaurant per stay, ($30.00 meals… I guess it depends on your definition of extravagant). Despite the beauty of the food and the dinner, more often I end up craving a simple salad with a dressing I can make. I love cooking, eating fresh and savoury foods. However, even when one has a small kitchenette in the hotel room, food creation is restricted. I cannot go out and buy all the spices, oils and ingredients I want, as I hate the waste, and I can not carry all of that on the plane. Anyone who knows the woes of traveller's stomach will know my story.
Cliff will attest to how often I can whine about wanting vegetables, and "real" food. But only I can attest to the fact that taking Huff on the road is worth every missed opportunity to eat really well.
– Jennifer Stobart
Stage Manager
---
Next stop on the Huff Tour: The team travels to Manitoulin Island, home to the Debajehmujig Theatre Group. Then a return to British Columbia, with a stop at the Rotary Centre for the Arts in Kelowna, and the SPARK Festival at the Belfry Theatre in Victoria.
Feature image of Cliff Cardinal preparing for opening
at Théâtre Périscope in Quebec City, Quebec.