As we launch a season celebrating  transformations, it's fitting that the team at Native Earth has also be shifting. This summer, we expanded our box office team and welcomed two new intern coordinators to assist with Weesageechak Begins to Dance 29.  With five new faces to introduce, we offer these get-to-know-you questions.
Let's start with something simple. Where can you be found on a Saturday evening?
Annie MacKay (Patron Services Representative): "Seeing a play or making dinner with friends."
Tyler Marsden (Marketing Coordinator): "In my backyard, jamming out on the ukulele with my roommates and friends."
Joelle Peters (Patron Services Representative): "Either at home writing and playing my ukulele, watching a show (live or on screen), or out with friends exploring the city."
Looks like we have two ukulele fans here! Perhaps we'll have a jam sometime in the office. Okay,  Ashley and Peter, tell us something on your bucket list. 
Ashley Bomberry (Festival Coordinator): "The number one item on my bucket list is to create art that changes minds and lives in some lasting and meaningful way."
Peter Kelly (Patron Services Representative): "Own a theatre space!"
Sounds like you're well on your way. Is what you're doing now what you always wanted to do growing up?
Peter Kelly: "Yes. Dance is my life!"
Ashley Bomberry: "What I'm doing right now isn't what I dreamt of as a child – I'm doing so much more than I could have dreamed. At the same time, I don't feel like I'm as far as I should be or as accomplished as I'd like to be. But I have had a lifetime full of adventures and travel and friends along the way and I wouldn't trade that for anything."
Annie MacKay: "Yes – finally!"
Joelle Peters: "Yes, 100%. Creating art and helping others do the same makes my heart happy."
Tyler Marden: "I have always wanted to work within Indigenous arts and media. While my focus has not been theatre-related, I am excited to work alongside other Indigenous artists who share the same passion for creative storytelling as I do."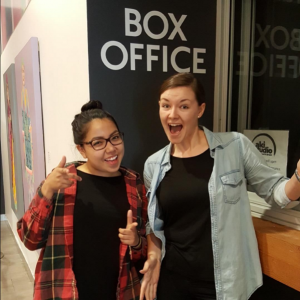 How about long-term. What is your dream job?
Tyler Mardsen: "Executive Producer of a web and mobile Indigenous production company."
Annie MacKay: "Actor-writer-plus-indefinite-number-of-hyphens."
Peter Kelly: "An Artistic Director of an international dance company, organization or festival."
Ashley Bomberry: "My perfect or dream job would be creating (writing, directing, producing) films and television programs to share Indigenous stories, values, perspectives and humour, which would otherwise go untold/unseen. I'd like to hold workshops in Indigenous communities around the world to empower the youth and provide an outlet for them to share their own stories, visions and dreams."
Sharing Indigenous stories is what Native Earth is all about! So can you tell us an Indigenous artist whose work you enjoy?
Tyler Marsden: "I am a big fan of Drew Hayden Taylor's work after first reading Me Funny front-to-back in university. (Shout out to the Occasions!)
Ashley Bomberry: "I wouldn't be able to pick a favourite play by I do love everything written by Daniel David Moses and Marie Clements. Their voices are so strong and so needed in today's cultural landscape of race and gender politics, painful pasts, and promising futures."
Peter Kelly: "Santee Smith."
Annie MacKay: "I still can't get Cliff Cardinal's Huff out of my head!"
Joelle Peters: "Margo Kane's Moonlodge."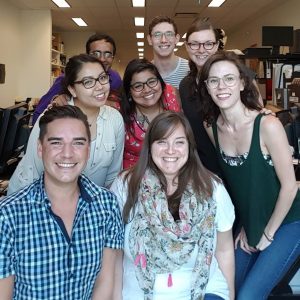 How about the big picture: if you could travel anywhere in the world, where would you want to go?
Joelle Peters: "Currently, I'd love to go to Peru."
Peter Kelly: "Europe."
Tyler Marsden: "I would want to travel to Australia and New Zealand."
Ashley Bomberry: "If I could travel to anywhere in the world, I'd go to Aotearoa and create some cross-cultural exploration work with Maori artists."
Annie MacKay: "I have to pick? Spain and Turkey are both high on my list because I've never been, but I also want to go back to Vietnam! Hang En Cave specifically. Google It."
Oh, we will. Finally, do you have a favourite quote?
Tyler Marsden: "Any man who must say 'I am king' is no true king at all" – George R.R. Martin
Joelle Peters: "Sometimes I'll start a sentence and I don't even know where it's going. I just hope I find it along the way." -Michael Scott, The Office
Peter Kelly: "You do you."
Ashley Bomberry: "Let yourself be silently drawn by the stronger pull of what you really love. It will not lead you astray." – Rumi
Thank you and wachiya/welcome to you all!

To learn more about each of these new team members,
visit our staff page.