The second of the two Indigenous dance works taking the stage in Aki Studio on Thursday, March 30th is the NDN way by Anishinaabe choreographer-dancer Brian Solomon, performed with Mestizo dance artist Mariana Medellín-Meinke. 
Brian Solomon grew up in the Northern Ontario village of Shebanoning-Killarney and fell in love with dance during high school, after realizing his natural abilities in movement.
"Growing up in the bush on the land, I've always had a strong connection to my body moving over terrain. I think being born with one hand gifted me with a greater connection to the body as well – adjusting movements in every day life from a young age. "
Solomon's artistic partner Mariana Medellín-Meinke was born and raised in México where dance was an integral element of her upbringing. "There's an incredibly vast number of traditional dances in México, and the traditional dance that I mainly engaged in was the dance of the Matlachines," As Medellín-Meinke  grew older, she felt inundated by the influx of the European invasion and aesthetics in her practice. "I'm grateful for all the knowledge that I acquired through European-based disciplines. But I'm now reconnecting with the dances of the people and communities of Turtle Island."
Medellín-Meinke's interest in Indigenous and traditional dance lends itself to a natural partnership with Solomon. The two met as students at The School of Toronto Dance Theatre, and have been collaborating for over a decade.
"We formed a strong personal and artistic bond from the start of our relationship," Medellín-Meinke explains. "Not only have we helped each others' artistic development, but our relationship has also functioned as a platform for the fostering of our critical thinking."
And when Solomon was inspired to create the NDN way, the choice of collaborator was obvious.  "She fills me with inspiration to no end," says Solomon of his collaborator. "There are few artists as incredible as her."
The began their process in a studio in Parkdale,  transfixed, listening to an old recording of an interview with Ron Evans. The storyteller was being interviewed about traditional Cree teachings for a 1974 CBC documentary called The Indian Way. "I'd never heard someone so succinctly speak on vast concepts… in just one hour," says Solomon. "Ron's language is direct; it's soft, clear, sure and genuinely full of feeling. One somehow has a sense of the embodiment of the teachings in his voice."
"The first day we rehearsed we did almost no movement," describes Solomon. "We sat for hours… asking ourselves how we could possibly apply anything visual to what this man was speaking of."  Medellín-Meinke also remembers the feeling on that first day, "It was filled with a sense of excitement and pulsating energy. Like the sound of a rattle."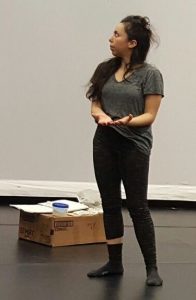 the NDN way is not a traditional Indigenous dance piece – it is Solomon's visual art-warp, a re-imagining, remix and interpretation of the Cree philosophies Ron Evans describes in this decades old interview about medicine teachings, pipe ceremonies, sweat lodges and death. So why is this recording relevant today?
"We live with what [Ron] is speaking of inside us as humans, Indigenous or not. He is speaking about every aspect of our lives as sacred," says Solomon. "We can all use reminders of this."
For Mariana the experience working with Solomon on the NDN way has highlighted the philosophy that we are all connected. "When [Brian and I] first met, many years ago, we saw each other as two distant people from distant places. But as time passed we began realizing our ancestral connections. We had a shift of perspective. Modern borders began vanishing while Turtle Island began surfacing. Tobacco and corn drew an imaginary umbilical chord between us and the Land. It became clearer how our self-awareness had been clouded by the still predominant Western narrative. I'm personally finding my strength in my self-awareness rooted in ancestral knowledge. And I believe that this can be potentially the case for the community at large."
the NDN way was commissioned by Native Earth Performing Arts, and it will make its world premiere in Native Earth's Aki Studio.
For Solomon that is significant.
"Native Earth has a vast history of presenting every type of Indigenous art, from emerging creators to artists we now might consider pioneers of the forms. Whether we know it or not, as Indigenous performing artists on this land, we are all connected to the work and people that have moved through Native Earth. It's an honour to be a part of that legacy."
the NDN way runs March 30 – April 1 at 9:00 pm in Aki Studio, part of Niimi'iwe: Indigenous Dance Double Bill.
---
Quick Facts About Solomon + Medellín-Meinke
What advice would you give to someone
who wants to do what you do?
Mariana: Trust in your heart's strength.
What are you reading right now?
Brian: My palm.
What is your profession's greatest challenge today?
Mariana: The relentless imposition of the system which suffocates possibilities.
Where is your favorite place to be?
Brian: Home. On the rocks and in the waters.
Mariana: In grateful land.
What's your favourite dessert?
Brian: Everything chocolate, EVERYTHING.
Feature photo by David Meinke