"I want it to be born here…I want them to laugh, learn, and be amazed."
A familiar face at Weesageechak, we're delighted to have multidisciplinary Anishinaabe theatre artist James Dallas Smith return to the festival for the first time as a playwright. His first full script, Crossroads follows two Indigenous brothers who haven't spoken in ages are trapped in a magical place that shouldn't exist and forced to confront deities, their personal failings and their own complicated history. In this world, deities come in various different forms and lead the brothers through mysterious doors.
With history at its core in a fantastical world, this new theatre-musical promises to make you laugh. Crossroads will fill the evening of Friday November 22, alongside international artists Jasmin Sheppard (Sydney, Australia) and Dakota Camacho (Seattle, USA). You don't want to miss it!
---
Learn more about James Dallas Smith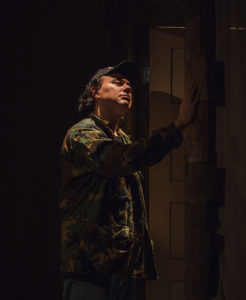 What inspired you to create the piece you're bringing to Weesageechak 32?
I was lucky enough to be included in a piece called, Ipperwash that Falen Johnson and Jessica Carmichael co-created at the Blyth Festival. It's a beautiful, heartbreaking story; the way Jessica cracked it open and presented it intrigued me. So it got me thinking about mine and as a middle aged man with a family if perhaps I was ready to tell a version of it. That same fall, I returned to Weesageechak for the first time in almost twenty years and was received by artists Monique Mojica, Gordon White, and Keith Barker in a way that felt like a homecoming. This encouraged me to start creating.
Why is Weesageechak the right place to present your work?
At its heart, this is an Indigenous story and this is a festival that has supported this sort of creation for more than 35 years. I want it to be born here.
What kind of reaction or effect do you want your piece to have to the audience?
I want them to laugh, learn and be amazed a time or two. I think humour is so important in telling our stories because they're often challenging subjects to witness.
Where do you find your inspiration for your creative work?
Seeing, reading or hearing the stories of others – in books, plays, movies – often sparks something for me.
Who is your Indigenous role model? How do they inspire you?
Currently, I have two: Keith Barker and Jani Lauzon. Beyond being incredible, gifted artists, I am in awe of the way they conduct themselves. They spread joy, remove fear, and just make everything they touch better.
What are you craving right now?
Pizza. Usually pizza.
What is coming up next for you?
I'm performing at Soulpepper in The Almighty Voice & His Wife by Daniel David Moses, which runs until November 10th.
---
Friday November 22, 2019