Native Earth's annual Weesageechak Begins to Dance 27 is a place where artists from all stages of their career bring their new work to be heard, often for the first time. One such emerging artist whose work has been gaining recognition is Cliff Cardinal, of Cree/Lakota decent.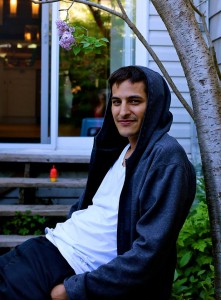 Cliff Cardinal,  made his theatrical debut with Native Earth in Freeman's Wake by Yvette Nolan in the '05 Rhubarb Festival, and has since been performing his own work across the country.
Currently studing playwriting at the National Theatre School of Canada,  Cardinal brings his newest piece romanceship to the Weesageechak festival.
Described as a story about outsiders falling in love, romanceship centers around a telephone fraudster, an anorexic chef, and a transexual crackhead who are hopelessly in love with being hopelessly in love. In what is now Cardinal's signature dark, humourous style, the play poses the question: what else is there?
"I write stories that haunt me, that grab me and won't let go," says Cardinal. "I'm not sure why this story and not some other one."
"I write stories that haunt me, that grab me and won't let go"
Cardinal is particularly thrilled to be in the company of esteemed artists Daniel David Moses, Jani Lauzon and, his mother, Tantoo Cardinal, at this year's festival. This mother and son duo have previously worked together as performers, but this will mark the first time the two will share the stage as fellow playwrights.
Weesageechak Begins to Dance won't be the only time audiences can see Cardinal's work this season at Native Earth; Cardinal's play Stitch, will have its first main stage production in the Aki Studio in June 2015. Stitch debuted in SummerWorks 2011, and went on to win both The Spotlight Award for Performance and Theatre Passe Muraille's Emerging Artist Award.
Cardinal also recently completed a national tour with his one-man show, Huff, including presentations at The Push International Performing Arts Festival, The Magnetic North Theatre Festival and the Pivot Theatre Festival, and closed the studio season at the National Arts Centre in May of this year. Huff, won the Buddies in Bad Times Vanguard Award for Risk and Innovation at SummerWorks 2012.
---
Some bits and bobs about Cliff Cardinal
What was your first job in theatre?
I acted in a short play written and directed by Yvette Nolan called Freeman's Wake. Michaela Washburn got me the job and Lorne Cardinal was in it too. I think it was part of Rhubarb. We had a few rehearsals in the evening and I worked at Starbucks during the day. I played Frank Nadijnikaz. The play opens on a casket with Johnny Cash singing Hurt; and Frank Nadijnikaz concealing a gun. Cool.
Still one of my favorite plays.
If you had to choose three plays as a "Welcome to Canada" gift, what would those plays be?
Scorched, Brothel #9,  and The Rez Sisters
What's next?
A music project:
Cliff Cardinal and The Skylarks – This Is Not A Mistake.
Thanks Cliff!

---
You can catch romanceship on Tuesday, Nov 18th @ 7:30pm.
More About Tickets