In addition to the line-up of playwrights featured in Weesageechak Begins to Dance 27,  there are also remarkably talented performances artists. One such artist is Cheri Maracle, the multi-award nominated actor/singer/songwriter of the Six Nations of the Grand River Territory.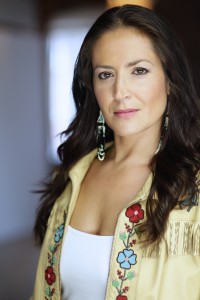 Maracle will be performing the one-woman show, Paddle Song by Tom Hill and Dinah Christie, about the life and works of famed Mohawk poet Pauline Johnson. "I absolutely love portraying this historical trailblazer, and am pleased to share this new script with a fresh new audience who probably hasn't seen this wonderful show yet," says Maracle.
Maracle has worked primarily on stage and the small screen for the past 20 years professionally. Twice nominated for a K.M. Hunter Theatre award for her body of theatrical work, Maracle was also nominated for a Canadian Screen Award last year for her reoccurring role as Sara Bull on APTN's critically acclaimed Blackstone.
"It's thrilling, captivating, and filled to the brim with talent."
But her work doesn't stop there: She is also a recording artist and recently released her third album Ache of Love, a jazz compilation, available on iTunes. Most recently Maracle played Veronique St.Pierre, at The Belfry Theatre in Victoria.
Maracle suggests audiences can learn something from Weesageechak Begins to Dance 27.  "It's thrilling, captivating, and filled to the brim with talent. I adore the people involved, they're maniacs like me. I am so proud to be a part of telling our Indigenous stories. What a majestic gift."
---
Some bits and bobs about Cheri Maracle
What advice would you give to someone who wants to do what you do? Study, Train, work hard, develop ALL talents. Don't take anything personally, and treat the theatre with respect.
Describe your ideal writing environment.
Quiet. Serene. Nature around me… but mostly… QUIET!
Who are some of your favorite writers? favorite playwrights? Richard Wagamese is one of my favourite writers.
Fav. playwrights are Marie Clements and Tomson Highway.
What ability would you like to steal from another writer?
Marie Clements' uncanny visuals.
If you had to choose three books as a "Welcome to Canada" gift, what would those books be?
Orenda, Three Day Road, and Indian Horse.
What are you thinking right before you begin a play?
Before I perform I always give thanks to the Creator, for my gifts as a human being, and I ask the Creator to be with me as I step onstage to tell the story…
Thanks Cheri!

---
Catch Paddle Song on Saturday, November 15th @ 7:30pm with a Weesageechak Begins to Dance 27 Festival Pass. More About Tickets