Returning to the Aki Studio stage for Weesageechak Begins to Dance 27 is award-winning Cree performance artist, and recent graduate of the Centre for Indigenous Theatre, Kitsuné Soleil.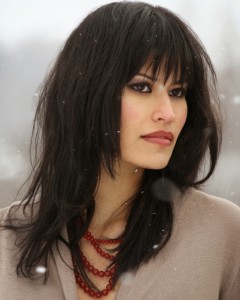 Kitsuné Soleil is an actor & model from Mistawasis First Nations, who enjoys engaging in community arts & her Indigenous culture.
"There's a fire in my heart that has a special burn for theatre, the right-in-the-moment urgency that unfolds before your eyes that can't be captured in a book or on film; moreover, the Weesageechak Begins to Dance festival has Indigenous roots," says Soleil. "I have volunteered for the festivities, and in recent years been part of the acting company for the festival."
Soleil, who appeared in The Portkey directed by Muriel Miguel, enjoys participating in the festival, and believes it is important that Indigenous stories are told. "Plus, it makes me feel super special to share the stage with all these wonderful, juicy Natives!"
Winner of the Best Actress at the Dreamspeakers Film Festival for her role in Close to Death, directed by Brandi Boulet, Soleil appeared in Clay & Paper Theatre's Our Last Best Hope, directed by David Anderson.  She is also a fan of dark & surreal themes, which she will be exploring in a couple future works with musical elements. Next Soleil is working on a couple stories, doing the auditioning thing, and knitting her cats some sweaters.
---
Some bits and bobs about Kitsuné Soleil
What advice would you give to someone who wants to do what you do? Just play and have fun with whatever you do in life, if you want to act, be an artist, writer, etc… you won't know until you get your hands dirty. Talk to people who are doing what you want to do, read articles about it, take classes, and all that jazz.
Describe your ideal writing environment.
There's not too much that distracts me when it comes to writing, I am constantly writing notes on my phone, if I have pen/paper I have to put it down immediately, otherwise it floats away. Even when it comes to songs, I need to record it on my phone, doesn't matter where I am, walking, on the bus, even at work I keep a notepad nearby, etc… I'm there with phone in hand trapping melodies in virtual space before it escapes!
What was your first job in theatre?
That would be when I got to be a part of Clay & Paper Theatre's summer ensemble a couple years back. I played the Garbage Man, and it was a community theatre experience with shows in the park, masks, puppets, and balls, that's right I got to wear a pair of balls!
What is your profession's greatest challenge today?
Getting started, having motivation. You really have to keep your train running because it's so easy to slip behind,
but that's every profession I guess…
What's your favourite dessert?
Cheesecake or coconut ice cream thingies.
What's the best advice you've ever received as a writer?
Well, when I had my piece read to a new group of writers, the entire room lit up with smiles and excitement. I thought that was funny because I was cringing in my seat at how vulgar some of my characters were. The advice I got from it was "keep it up".
Where is your favorite place to be?
In the wilderness looking at birds.
What is one of your pet peeves?
Not being able to find my other shoe.
Who is one of your heroes?
Hands down, Bettie Page!
The one word your best friend would use to describe you? Samuraipizzacat
Who would you most like to have dinner with?
Dusty Rose, that tumbleweed!
Thanks Kitsuné!

---
You can catch Kitsuné Soleil on various nights throughout the festival with a Weesageechak Begins to Dance 27 Festival Pass.
More About Tickets