From Rene Highway to Santee Smith, Indigenous dance has held an important place in Native Earth's 34-year history. Year after year, dance is developed as a part of Weesageechak Begins to Dance, and this year is no different. This year's celebration of Indigenous dance will showcase the work of three of today's most exciting Indigenous dance artists.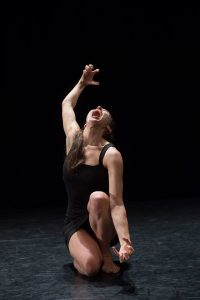 Making her second appearance in the festival is Métis/Anishnaabe/Welsh dancer and choreographer Olivia C. Davies  with her newest work, Crow's Nest and Other Places She's Gone. 
This York University graduate, and co-founder of MataDanze Collective, comes to the festival from Vancouver where she created Crow's Nest with celebrated Sahtu Dene/Coast Salish storyteller Rosemary Georgeson.
This series of dance vignettes tells the story of Mama Crow, a woman coming to terms with her new circumstances. "[It] is a story about one woman's awakening to the reality she exists in and the choice she makes to change," Davies explains. "To recalibrate her compass in order to gather up what she has lost along the way."
Davies drew inspiration for the piece from the way Indigenous women move in and out of their comfort zones. "We are caught in a world of diminishing returns; no matter how hard we try to maintain our traditions, society requires us to live a certain way." This is something Davies has seen first-hand. "I know of many women who leave behind their life in one place to find happiness somewhere else."
"As Indigenous creators, we are transformers of space, place, and time. We are the storytellers of our existence."
Developing her work at this Indigenous performing arts festival not only provides the platform and support for Davies' work, but also the connection to community. "As Indigenous creators, we are transformers of space, place, and time. We are the storytellers of our existence," says Davies. "By sharing stories of transformation, I hope that others may be inspired to reflect on their personal narratives and be the change they want to see in the world."
Davies will develop this work with the support of dramaturg Alejandro Ronceria. See Crow's Nest and Other Places She's Gone  on Thursday, November 17th at 7:30 pm in Aki Studio, along with other dance works by Christine Friday and Aria Evans.
---
Something More from Olivia C. Davies
What piece are you looking forward to seeing
at Weesageechak 29?
Christine Friday's Maggie and Me.
Who is an Indigenous role model of yours?
How do they inspire you?
Starr Muranko is one of my role models, as are Santee Smith, Michelle Olson, Lara Kramer and Maura Garcia. These are matriarchs of the contemporary Indigenous dance world who are pursuing their craft and exchanging their knowledge with the future generation of creators.
Is there a traditional teaching that you most identify with?
Make space in your life to receive the gifts bestowed upon you.
Let go of what no longer serves you. Give back what you can.
What superpower would you like to have? Why?
Ability to fly. I have a recurring dream where I am running and then I gradually lift off and take flight – it feels very real,
like I'm swimming on an air-stream.
What is your favourite pastime?
Reading fiction novels about other peoples' lives;
anything by David Sedaris.
What is your most memorable performance?
NGS (Native Girl Syndrome) by Lara Kramer. The show left an indelible mark on my psyche and my creative spirit was forever changed.
What are you craving right now?
End to land claim rights activists' imprisonment.
What is coming up next for you?
After Weesagechak 29, I continue developing Crow's Nest and Other Places She's Gone with residency at Studio 303 in Montreal, residency at The Dance Centre in Vancouver,
and premiere of full-length work in May 2017.
To me, art is:
The antidote to the terror that threatens to overtake my Spirit when I pay attention to the sadness and suffering in the world around me.
---
You can catch Olivia C. Davies'
Crow's Nest and Other Places She's Gone
on Thursday, November 17th @ 7:30pm
BUY TICKETS