Native Earth's Weesageechak Begins to Dance 29 is an annual two-week festival that brings together new and familiar faces to celebrate the latest in Indigenous performing arts. This year, over 30 artists will come from across Canada and around the world to share their work with audiences at the festival.
Hailing from Ottawa, Ontario, audiences will be familiar with the work of Anishnabeg/English/French actor and writer Craig Lauzon. Most recognized as a member of CBC's Royal Canadian Air Farce, Lauzon has been nominated for several awards for his work in theatre, TV and film.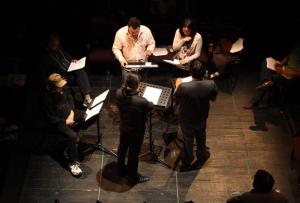 On Thursday November 10th, Lauzon will share with audiences a new play in its earliest stages. Currently a series of monologues, Lauzon's Group tells the story of a woman struggling with learning that the husband she was about to leave has been diagnosed with a terminal illness.
It was the idea of "living" grief that inspired Lauzon to write Group. "The anger, the guilt, the stress of having a loved one dying while you wait for it to happen and have no power to do anything about it," explains Lauzon. "It's a common thing and I don't think we talk about it enough."
Helping Lauzon develop his work is director/dramaturg, two-time Governor General's Award nominee, and former Native Earth General Manager, Donna-Michelle St. Bernard. It is a return for both artists to the Indigenous works festival, an institution Lauzon believes is important for the Indigenous community.
"Telling stories from our point of view, so that our community can see themselves on stage or in stories – it's huge.
"Telling stories from our point of view, so that our community can see themselves on stage or in stories – it's huge. It also gives people outside the community the opportunity to see us the way we see ourselves and not just what they think we're like or what they see in Hollywood movies."
Past Artistic Associate for Native Earth, Lauzon is glad to be developing his work in the long-standing festival. "Weesageechak and Native Earth Performing Arts are home to me. There is no safer place for me to dig into something."
When asked what he hopes audiences will take away from seeing Group, Lauzon is not yet sure. "I think all good theatre makes you feel something good or bad, I don't know what that something is. Hopefully it is what the characters are feeling."
See Craig Lauzon's Group on Thursday, November 10th at 7:30 pm in Aki Studio, along with readings of works by Shandra Spears Bombay, Josh Languedoc and Dean Gabourie.
---
Something More from Craig Lauzon
What piece are you looking forward to seeing
at Weesageechak 29?
Brad Fraser's Ménage à Trois.
Who is an Indigenous role model of yours?
How do they inspire you?
August Schellenberg. I had the great fortune of working with him when he played King Lear in the all Indigenous cast of the NAC production of King Lear. I don't think that I am alone in being inspired by him. Augie, when he decided to do something, did it all the way. He was a boxer as a young man, he sang and when he decided he wanted to act he got himself into the National Theatre School and trained, hard. He was and may still be the oldest student they ever had but he wasn't fazed by it he wanted to learn.
What's the best piece of advice you've been given?
Train, train, train and when you think you know it all
train some more.
What is coming up next for you?
Video Cabaret's next installation Confederation: Part 1 and Confederation: Part 2. Two incredible plays about the confederation of Canada. They will be playing at the Soulpepper Theatre beginning in May. I'll be playing Louis Riel and others.
To me, art is:
Subjective.
---
You can catch Craig Lauzon's Group on
Thursday, November 10th @ 7:30pm
BUY TICKETS