At this year's Weesageechak Begins to Dance festival, Native Earth will present the inaugural 2-Spirit Cabaret, in partnership with Buddies in Bad Times Theatre. This unique and exciting cabaret will entertain with performances by six 2-Spirit, Queer and Trans-identified Indigenous artists from Canada and around the world.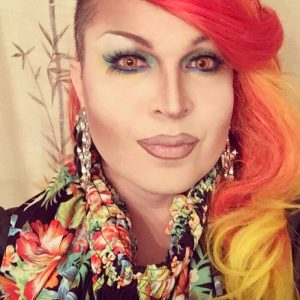 J Miko Thomas, a Chickasaw writer, musician, activist and drag performance artist joins this year's festival all the way from San Francisco. Performing in the 2-Spirit Cabaret as Landa Lakes, Thomas looks to the Indigenous presence in the history of her hometown as inspiration for her work. "Growing up in Oklahoma, I was always fascinated by the traditional stories. When I get the chance, it is always so great to be able to share them."
For her first time in the Weesageechak festival, Thomas will perform Pintishkannovt nantahaat katihmi? (What Happened to Little Mouse?), which explores her Chicksaw and 2-Spirit identity. Developed as a multidisciplinary theatrical production, and first performed at the National Queer Arts Festival in San Francisco, Pintishkannovt nantahaat katihmi? takes the audience through the ancient world of Southeastern Tribal origin stories using traditional masks, pantomime and live music.
"I want the stories to reflect the reality of the culture"
"I have always believed that these stories need to be told, but at the same time I've heard stories retooled and repacked in a way to make it easier for the Western ear to appreciate." Thomas explains. "I want the stories to reflect the reality of the culture, not a carefully controlled PR – polite ones for the kids."
For this reason, Thomas hopes audiences will see her work and take from it a greater understanding of the differences, but also the similiarities between her culture and their own.
J Miko Thomas will perform an excerpt of Pintishkannovt nantahaat katihmi? during the 2-Spirit Cabaret on Friday November 11th at Buddies in Bad Times Theatre, along with Cherish Voilet Blood, Gwen Benaway, Michaela Washburn, Miss Ellaneous, Raven Davis, Smith Purdy and Caitlin Thrasher.
---
Something More from J Miko Thomas
What piece are you looking forward
to seeing at Weesageechak 29?
I am looking forward to seeing everything; it's exciting.
Who is an Indigenous role model of yours?
How do they inspire you?
My sister inspires me every day;
she is a strong Native woman and to be frank is my hero!
Is there a traditional teaching that you most identify with?
I most identify with the traditional teaching of the path that we walk – sometimes the way is hard while other times it easy
but no one can walk it for you, each of us walks it alone.
What are you craving right now?
Pashofa (corn soup).
What superpower would you like to have? 
I'd love to be able to read a person's mind,
that way I wouldn't have to argue as hard to change them.
What's the best piece of advice you've been given?
Don't live up to others expectations but decide what you want to do.
What is coming up next for you?
A piece I am working on for July for the
Queer Cultural Centers Festival.
To me, art is:
Expression.
---
You can catch J Miko Thomas as Landa Lakes
in the inaugural 2-Spirit Cabaret at Buddies
Friday, November 11th @ 10:00 pm
Tickets for the 2-Spirit Cabaret include access to
the imagineNATIVE film screening
in Aki Studio @ 7:30 pm
BUY TICKETS
Banner Photo c/o Jorge Rivas/Fusion