---
SPOKEN WORD | MUSIC | THEATRE
---
The Properties of Spirit
by Jessica Lea Fleming
The Properties of Spirit weaves autobiographical experiences with Métis identity and the Divine Feminine. Combining elements of spoken word poetry and storytelling, the piece is punctuated with soundscapes inspired by the land, water, and traditional Métis practices.
Writer/Performer: Jessica Lea Fleming
Dramaturg/Outside Eye: Donna-Michelle St. Bernard
Sound Designer: Ricardo Temporao
Jessica Lea Fleming is of Métis and Scottish descent from Penetanguishene, Ontario. She is an award-winning filmmaker, published poet, producer, and programmer in Hamilton. Jessica is currently co-directing a new theatre piece with Signal Theatre, co-creating theatre piece See the Circus with Sundown Theatre, directing for TV Series AMPLIFY on APTN, and developing a music video with Juno-nominated artist Iskwé. She works with the Wiisaakodewininiwag Collective, imagineNATIVE, and Hamilton Fringe.
---
My Holographic Nightmares
by Olivia Shortt
Partially fictional, partially imagined, and partially nonsensical, My Holographic Nightmares is a walk-through of what it might be like to be inside an artist's head. When thoughts continue to build up, disappear, reappear, and then come out of nowhere in the middle of the night, anxiety has become a friend well-known to many creative people.
Get ready for weird noises, fragmented text, and an all over adventure in interdisciplinary storytelling.
Dramaturg: Patti Shaughnessy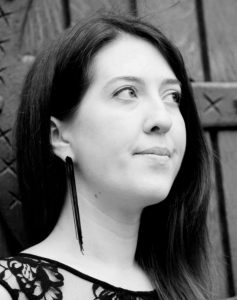 Olivia Shortt (Anishinaabe-Irish) is a Toronto-based classical and contemporary saxophonist and noise-maker who has performed in a variety of spaces ranging from Neutrino Lab in Northern Ontario two kilometres underground, to up amidst the mountains of Banff, AB. She had her Lincoln Center (NYC) debut in 2018 with the International Contemporary Ensemble performing in Michael Pisaro's "A Wave and Waves". Having fun isn't hard when you're a member of The Velvet Crystals, the Dialectica Saxophone Quartet, the Stereoscope Sax Duo, and The Element Choir. She loves glitter, cats, and coffee. www.olivia-shortt.com
---
Boozhoo Manoomin
by Beverley McKiver
Boozhoo Manoomin musically explores manoomin (wild rice), the sacred food of the Anishinabeg. This musical suite acknowledges the importance of the manoomin harvest to the Anishinabeg, and how their destiny is historically and spiritually linked to that knowledge. The manoomin harvest is under threat today as a result of human industrial and recreational activities. The sustainability of manoomin is indicative of the state of our planet's health and well-being, and should be seen as the responsibility of all of us.
Composer/Pianist: Beverley McKiver
Vocalist: Nicole Joy-Fraser
Flute: Ruhee Dewji
Strings: Saskia Tomkins
Percussions: Steáfán Hannigan
Festival Dramaturg: Spy Dénommé-Welch
Beverley McKiver (Lac Seul First Nation – Anishinaabe) is a pianist, composer, and storyteller currently living in Ottawa. She is an active collaborative pianist and piano teacher. Beverley's creative work is centered on recovering Indigenous knowledge. She believes that our understanding, relationships, and health are strengthened by sharing our stories.
---
S.O.S. Saving Our Sovereignty
by

Out of Sync Collective


Theresa Cutknife, Pesch Nepoose,
Jesse Wabegijig
Kara, an urban Indigenous teenager, is brought to her reserve against her will by her mother. She is ostracized at school until she meets Billy. Her cousin Diana is hostile at first, till they play a game called Trauma Olympics. They come to know the full extent of their individual hurt from their pasts, and it is revealed that a friend has committed suicide. They must all come together to stop the cycle of suicide amongst the youth.
Writer/Performer/Director: Theresa Cutknife
Writer/Performer: Pesch Nepoose
Writer/Performer/Lighting & Sound Designer: Jesse Wabegijig
Dramaturg: Lisa Nasson
Ensemble: Cheri Maracle
Co-founded by Theresa Cutknife (Nehiyaw/Puerto Rican Iskwew), Pesch Nepoose (Cree), and Jesse Wabegijig, Out of Sync Collective is a collective of fellow students from the Centre for Indigenous Theatre (CIT) that have come together to create art for social and informative justice. Their first project S.O.S. Saving Our Sovereignty was presented at the Paprika Festival in May 2018 as part of the Indigenous Arts Program.
---

< TUESDAY NOVEMBER 20THURSDAY NOVEMBER 22 >