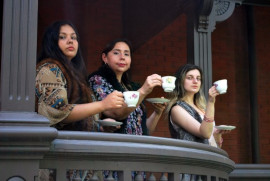 Winnipeg-based Anishinaabe playwright Frances Koncan combines humour with satire and history to deliver a poignant insight into the Canadian fur trade. As part of Animikiig Creators Unit, she has been working with mentors Jessica Carmichael and Lindsay Lachance for the past two years to develop Women of the Fur Trade, a story about the cultural inheritance of three 19th century women as they navigate the tumultuous world of the Fur Trade. "It's also about the power of friendship and the tragedy of bad facial hair," says Frances.
Women of the Fur Trade is an invitation to review what historical narratives we know of this land, and recognize the Indigenous and Métis heroes and leaders, all the women and two-spirited folks who were behind the image.
The play won first place at the 2018 Toronto Fringe New Play Contest, and second place at the Winnipeg Fringe New Play Contest. And in February 2020, it will premiere at the Royal Manitoba Theatre Centre as part of their season.
Catch the workshop performance of Women of the Fur Trade before its world premiere on November 21st!
---
Learn more about Frances Koncan
What inspired you to create the piece?
I was reading about Canadian history, especially the history of Treaty 1 territory and every story was told by men! Further, every story about the fur trade was somehow about Louis Riel, as if he was the only person who existed. I thought that was both hilarious and very annoying and wanted to write something else about it that was also as weirdly and unnecessarily about Louis Riel, yet not about him at all.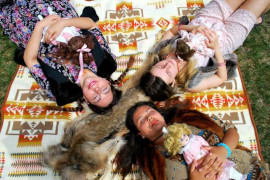 How did the piece change/evolve/develop from last year's presentation at Weesageechak?
Last year the piece was a 60 minute work. Now it clocks in around 90 minutes. There are two new characters and a more linear and familiar narrative path through the story as opposed to how abstract it used to be. I think it's sharper and smarter. I wrote the first draft in October 2017 and have changed a lot as a writer since then, which I think is evident in the script.
What kind of reaction or effect do you want your piece to have to the audience?
Anything but boredom. I never really set out with an expectation of what I want the audience to experience beyond simply a lack of boredom. Whether that's anger, laughter, confusion, intense hatred…anything but boredom.
Where do you find your inspiration for your creative work?
Deep inside my constant low-grade anxiety. I love generating weird ideas for absolutely no reason. Like fake Hallmark movie titles. Sometimes the ideas work and give me inspiration for a project!
Who is your role model and how do they inspire you?
Keanu Reeves. He's a good, respectful person who works in a variety of genres. He doesn't dismiss his less critically-acclaimed work. He doesn't take himself too seriously. He's a vampire who is going to live forever. I aspire to be all of that.
What's the best piece of advice you've been given?
"Don't do it."
What are you craving right now?
Affection.
What is coming up next for you?
The play is premiering at the Royal Manitoba Theatre Centre. I kind of quit doing theatre and am working as a journalist at the Winnipeg Free Press right now. But I did get roped in to directing a production of Othello this winter. I also want to have a baby with a sperm-donor, on or before January 1st 2022. Mindy Kaling did it. Why not me?
---
Thursday November 21, 2019