"In theatre, a triple-threat performer is one who can act, sing and dance…He can act, sing and dance, but he's also an accomplished composer, lyricist, playwright and a born storyteller." – Calgary Herald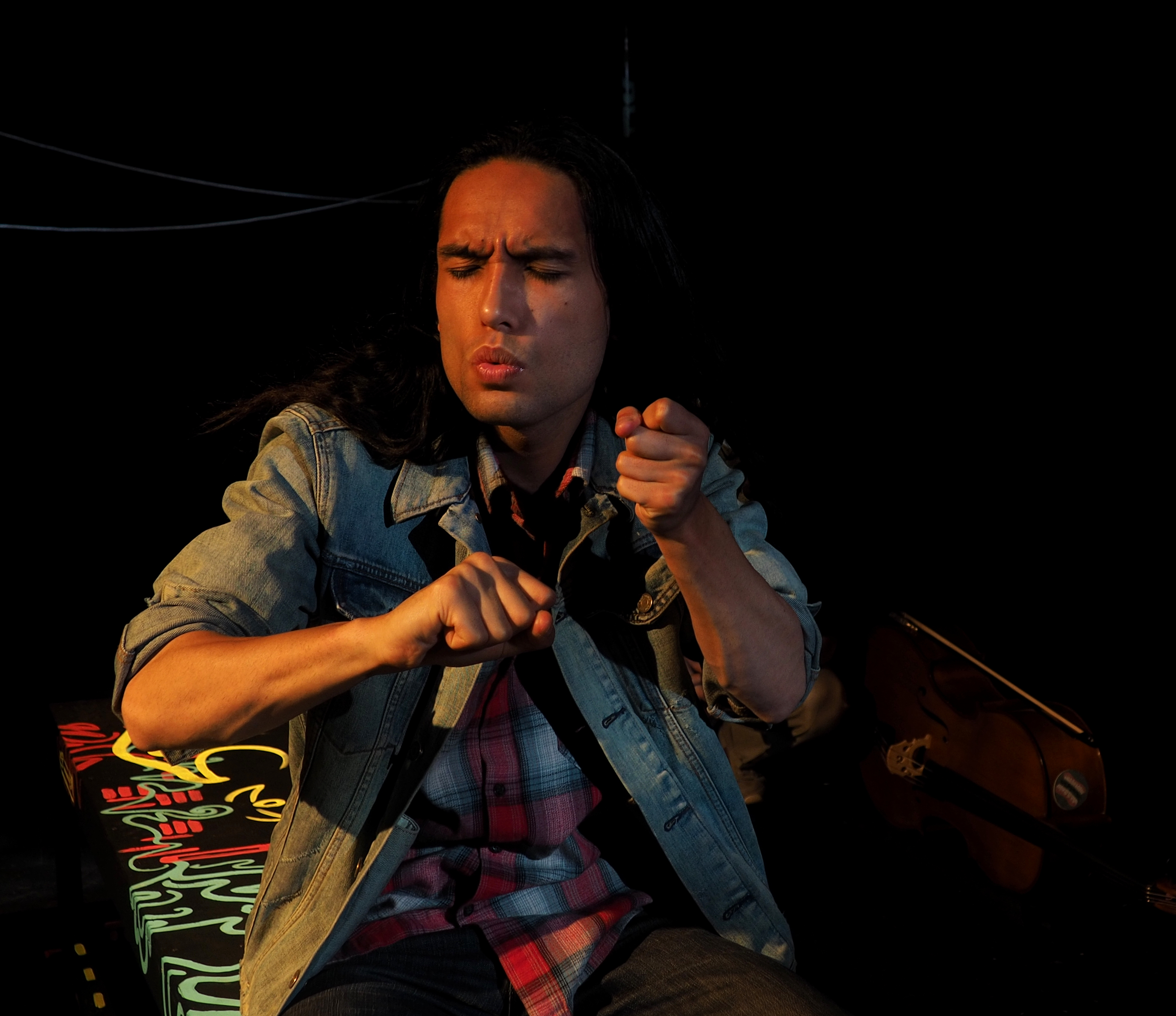 Calgary-based artist with Mi'gmaw ancestors, Zach Running Coyote comes to Weesageechak for the first time with his debut work as a playwright. Kohkum & me is a virtuosic folk musical about an adopted young Indigenous man who is headed to Vancouver on a Greyhound bus in search of his birth mother. A whirlwind journey filled with biting humour and powerful songs, we discover ancestors using payphones, David Bowie as an Ice Monster and Jesus as an Indigenous Grandmother.
Kohkum & me was inspired by Zach's own endless bus trips and the numerous people he met, including an elder who survived the residential schools and has learned to heal herself. Featuring Zach himself, the play premiered at Calgary's Motel Theatre in August as part of his graduating project at Rosebud School of the Arts. We're excited to see Zach take this piece to the next step at Weesageechak!
---
Learn more about Zach Running Coyote
What inspired you to create the piece you're bringing to Weesageechak 32?
"I have been stripped of knowing where I come from. Lies are written in the pages of a colonizer's ledger that threaten to determine my place. But it is my ancestor's blood, not a white man's ink that runs in my veins."
Growing up in a Christian home with no connection to who I am, Kohkum & me is my autobiographical myth of how I learned to look into a mirror and recognize a child of Creator.
Why is Weesageechak the right place to present your work?
I did a project on Native Earth Performing Arts in my theatre history class, and I've been pretty obsessed ever since. Many of the artists I admire the most have developed work through Weesageechak, and it's so very fulfilling to do the same!
What kind of reaction or effect do you want your piece to have to the audience?
I hope my truth is met with listening, open hands. I hope that you learn something about yourself. I want you to hum my songs the whole bus ride home. I want to inspire the child and elder within each person, and invite the audience into a healing circle where we all, in the words of the show's final song, "Listen to the Old Ones breathe."
Where do you find your inspiration for your creative work?
The hidden elders living on the streets. They are the glowing embers of a sacred fire.
Who is your role model? How do they inspire you?
Buffy Sainte Marie who said, "Take a chance on the spirit of the wind."
What is the best piece of advice you've been given?
To eat before going to bed. Keeps the nightmares away.
What are you craving right now?
A trip to some hot springs.
What is coming up next for you?
The Napi Project with Making Treaty 7 and Lunchbox Theatre, as playwright and performer.
---
Friday November 15, 2019