RENAE MORRISEAU
Director, Cultural Ambassador, Lead Writer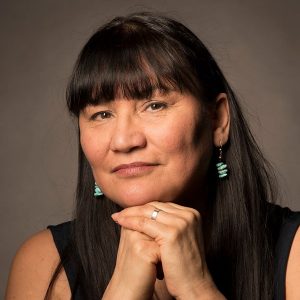 Renae is Cree and Saulteaux from the Treaty 1 Territory of Manitoba, and has worked across Turtle Island and internationally in film, television, and music since the early 80's. She is honoured to have received cultural teachings through social and ceremonial songs and stories with the Secwepemc, Okanagan, Nlaka'pamux, Cree, and Anishinaabe peoples. Renae toured internationally with her singing group M'Girl; served as Aboriginal Storyteller at the Vancouver Public Library; directed Down2Earth, an APTN TV Series on green-energy developments and sustainbility projects in Maori (New Zealand) and First Nations (Canada) communities.
Community building projects include the winter outdoor production Contest of the Winds with Caravan Farm Theatre, the community play Tuwitames with Splatsin Language Program (Secwepemc Nation)/Runaway Moon Theatre, and co-writing In the Heart of a City: The Downtown Eastside Community Play, and Storyweaving with Vancouver Moving Theatre.
---
ROSEMARY GEORGESON
Community-Engagement Liaison, Co-Writer
Rosemary's passion is in bringing youth, elders, and ancestors together through storytelling and cross-cultural connections. A Coast Salish and Sahtu Dene storyteller, playwright, and filmmaker, she tells stories which are deeply rooted in her family's long history on Galiano Island. Georgeson has been recognized for her collaboration and sharing of stories with the award winning play and CBC radio documentary, Women in Fish, and her continued involvement as storyteller and writing group organizer for women in Vancouver's Downtown Eastside. Rosemary has been Storyteller in Residence at the Vancouver Public Library (2014), and facilitator for the From Where We Speak project, and A Community Remembers, working with First Nations youth on and off reserve to create and perform their own stories.
Born and raised in the commercial fishing industry, and with a background in the culinary arts, Rosemary has worked as a collaborating artist, storyteller, and community liaison for Vancouver Moving Theatre and urban ink productions. Rosemary  co-wrote We're All In This Together, and Storyweaving.
---
SAVANNAH WALLING
Project Artistic Director, Co-Writer
Savannah, born in Oklahoma, USA, is a first generation immigrant to Canada and twelfth generation descendant of refugees from Europe; her tangled blood lines travel further than she has concrete knowledge. A writer/theatre artist trained in dance, mime, and music, Savannah is Co-founder/Artistic Director of Vancouver Moving Theatre, with whom she has toured four continents, created a series of community-engaged productions for/with/and about Vancouver's Downtown Eastside, and served as Associate Artistic Director of the Downtown Eastside Heart of the City Festival. She collaborated with artists of many genres, traditions, and cultures to create productions that interweave localized content with accessible storytelling, spectacle, and live music. She co-wrote Storyweaving with Rosemary Georgeson and Renae Morriseau.
---
TERRY HUNTER  |  Producer
Terry is Co-founder/Executive Director of award winning Vancouver Moving Theatre, and Artistic Producer of the Downtown Eastside Heart of the City Festival. Terry has produced numerous ground-breaking and innovative community-engaged productions including among others The DTES Community Play, Storyweaving and Bread & Salt.
An award winning artist and community-organizer, Terry is involved in many Vancouver-based arts initiatives and organizations, and currently serves as Co-Vice Chair of the City of Vancouver Arts and Policy Council. Of Scots/English/Danish heritage, his ancestors arrived on Turtle Island six generations ago. Terry danced for eight years in the ceremony lodge of Elder Howard Mecas (Waywayseecappo Nation, Manitoba), and carries  the name 'Ozhoawashkaanakwad' (Blue Cloud).
---
KATHLEEN FLAHERTY  |  Dramaturg
Kathleen is the Dramaturg at Playwrights Theatre Centre (PTC). She collaborates with theatre makers to dig into the deep structure and essential story or idea, the soul of a work, building outward with concrete details and images to manifest a piece of theatre live in space with the capacity to engage an audience. She is a former producer of radio drama and IDEAS documentaries for CBC Radio. 

She has the privilege of being a working class woman from small prairie towns who has achieved an MFA in Directing, and collaborated to make theatre across Canada for forty years – from the 'happenings' and collective creations of the early '70s to post-modernism' and 'the post-dramatic.' She has lived on unceded Coast Salish territory for the past twenty years.
---
KEITH BARKER  |  Consulting Dramaturg
Keith is a Métis artist from Northwestern Ontario. A graduate of the George Brown Theatre School, has has worked professionally as an actor, playwright, and a director for the past seventeen years. He is a recipient of the SATAward for Excellence in Playwriting, and received the Yukon Arts Audience Award for Best Art for Social Change for his play The Hours That Remain. His second play, This Is How We Got Here, has recently been published through Playwrights Canada Press. He served as a Theatre Program Officer at the Canada Council for the Arts, and is currently the Artistic Director of Native Earth Performing Arts in Toronto.
---
ANGE LOFT  |  Consulting Dramaturg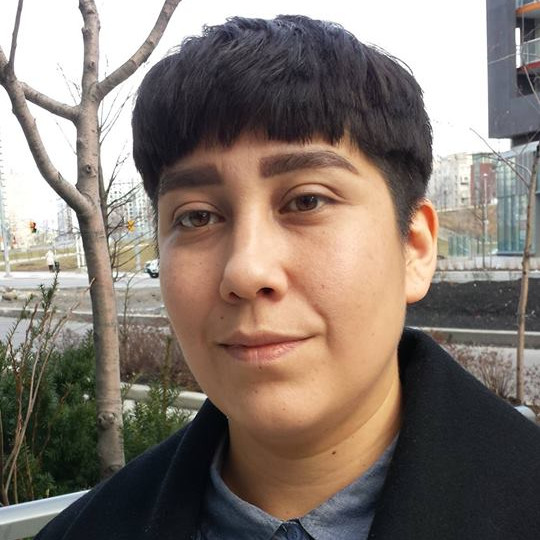 Ange is a multidisciplinary performing arts creator, performer, facilitator, and consultant who moves between international touring as vocalist with Juno and Polaris nominated group, Yamantaka/Sonic Titan, and intensive community art collaborations as Associate Artistic Director of Jumblies Theatre. Ange deals with storyweaving, arts based research, wearable sculpture, large scale image, regional Indigenous history, and project planning.
---
---
---