---
Kiyâm 🏔️ and or Thunderbeing⚡️
by

Jeanette Kotowich
An offering of speculative digital performance, dance and ritual by Jeanette Kotowich, video in collaboration with Toby Gillies.
Kiyâm – to be at peace with oneself – is just one interpretation of the word in the animated Nêhiyaw language
Concept/Direction/Performance – Jeanette Kotowich
Video Collaboration – Toby Gillies
Audio weaving by Jeanette Kotowich, sourced from original samples by Graham Kotowich (Murky Ness, Feb 16 2020, & Distant Sirens) and 'Song for Today' sung by Jeanette Kotowich produced by Kathleen Nisbet
Filmed on the unceded and Ancestral Sḵwx̱wú7mesh, Sel̓ilw̓ətaʔɬ, and Xʷməθkʷəy̓əm territories
Acknowledgments – Matriarch Uprising – Harvest Moon Showcase – Sept 2021
Jeanette Kotowich
I am a multi-disciplinary iskwêw, independent dance artist, creator, choreographer and Auntie Culture enthusiast of Nêhiyaw Métis and mixed settler ancestry. Originally from Treaty 4 territory Saskatchewan, I create work that reflects Nêhiyaw/Métis cosmology within the context of contemporary dance, Indigenous performance, and Indigenous futurism. Fusing interdisciplinary collaboration, de-colonial practices and embodied research methodologies; my work references protocol, ritual, relationship to the natural/spirit world and Ancestral knowledge. My practice is intergenerational and vocational; it's a living and lived experience. I reside as a guest on the Ancestral and unceded Sḵwx̱wú7mesh (Squamish) əl̓ilw̓ətaʔɬ/ (Tsleil-Waututh) and xʷməθkʷəy̓əm (Musqueam) territories, colonially known as Vancouver. movementhealing.ca
IG: movement.healing
Facebook: https://www.facebook.com/jeanette.kotowich
---
Red & White
by

Sandra Lamouche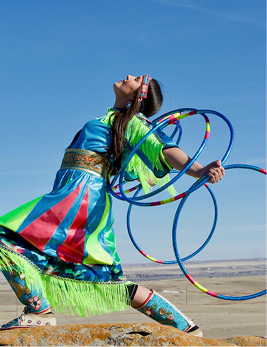 Sandra Lamouche is a Nehiyaw Iskwew (Cree Woman) from the Bigstone Cree Nation in Northern Alberta and married into the Piikani Nation in Southern Alberta and mother to two boys with braids. She completed her B.A. in Native American Studies from the University of Lethbridge in 2007. In 2021 she successfully defended her M.A. Thesis at Trent University, titled "Nitona Miyo Pimadisiwin (Seeking a Good Life) Through Indigenous Dance" which examines Indigenous Dance as a Social Determinant of Health and Well Being. Sandra is a multidisciplinary creator and storyteller, she is a Champion Hoop Dancer, award winning Indigenous Educational Leader, two-time TEDx Speaker, artist, and writer. She has over fifteen years of experience in ten international styles of dance including ballet, tap, jazz, lyrical, modern, contemporary, hip hop and powwow styles, and the hoop dance. SHe has performed, collaborated with, studied and trained with Indigenous Dance Companies such as "Daystar Modern Dance Creations", Rosalie Jones, founder of Modern Native Dance (Rochester, NY); "Dancing Earth: Contemporary Indigenous Dance Creations" Rulan Tangen, founder and artistic director (Santa Fe, NM); "Compaigni V'ni Dansi" Metis and Contemporary dance with Yvonne Chartrand (Vancouver, BC); "Kahawi Dance Theatre" Santee Smith (Toronto, ON); Jack Gray of "Atamira Dance Company" (New Zealand), O. Dela Arts (Ontario), Raven Spirit Dance (Vancouver).
---
Maanadjia (to take care of our people for a long time)
by

Rebecca Hass
All drum songs created by Rebecca Hass
Anishinaabe text shared by Rene Meshake
Editing of all segments except The Earth Sings by Mackenzie Lawrence
OPENING SEQUENCE
Videographer: Mackenzie Lawrence
Poem by Rebecca Hass
English voice-over by Rebecca Hass
Anishinaabe translation and Voice Over by Rene Meshake
THE HUNTER / FIRE
Hunter: Rebecca Hass
Deer/Fire: Johnny Aitken
BLANKETS
Métis woman: Rebecca Hass
Trickster form: Jonny Aitken
REMEMBER ME
Aria: When I am Laid in Earth- From Dido and Aneas by H. Purcell
Sung and performed by Rebecca Hass
Drummer: Johnny Aitken
THE EARTH SINGS
Aria: Ombra Mai Fu from Xerxes by G.F. Handel
Sung and performed by Rebecca Hass
Drum: Lindsay Delaronde
Creative director: Lindsay Katsitsakatste Delaronde
Main Videography/editor: Dean Kalyan, Kalyan Studios
Rebecca Hass is from the Georgian Bay Métis Community, and is of mixed European descent. Her gifted traditional names are Manginoweh (Anishinaabe) and Huuputh-uksupe (Nu-chah-nulth). Now a multidisciplinary artist, Rebecca comes from 30+ year career in opera and classical music. As an act of personal and professional reclamation of her Indigenous identity, she has been focusing on the creative realization of combining her westernized music practice and her Métis ancestry, to walk with both fully realized and honored. Working with Anishinaabe Elder Rene Meshake, and physical theatre artist John Aitken (of Coast Salish, Haida and Scottish descent) she is currently creating a multimedia theatrical piece called "Manaadjia" – which means "to take care of our people in order to conserve them for a long time". Raised on Robinson Huron and Williams Treaty territory, she currently lives and creates on Lekwungen Territory, in Victoria British Columbia.
---

< FRIDAY NOVEMBER 19WEDNESDAY NOVEMBER 24 >